A Day from the Naturalist Journal
We currently collect daily observations of weather, wildlife and phenological characteristics around the Toolik Lake region. Recordings of storm events and duration, cloud cover, air temperature, wind speed, fog and percent snowcover are taken each day. Wildlife activity in and around camp is recorded, including birds, fish and insects sightings. We note the timing of ice out and ice up on Toolik Lake, as well as green-up measurements in the spring and senescence measurements in the fall.
Summary from the Toolik Lake Naturalist Journal
| | | | |
| --- | --- | --- | --- |
| Time of Day: | 7:24 pm | | |
| Air Temperature: | 63°F | Snow Cover: | 0% |
| Wind Speed: | 15 mph | Ice on Lake: | 0% |
| Wind Dir: | S | Ice on River: | 0% |
| Cloud Cover: | 36-64% | Aurora Seen: | N |

What we saw:
Mammals (2 seen)
Tracks (0 seen)
Arctic Ground Squirrel
Ermine

Bird Species (15 seen)
Bird Families (11 seen)
American Pipit
American Tree Sparrow
Canada Goose
Common Raven
Common Redpoll
Glaucous Gull
Greater White-fronted Goose
Lapland Longspur
Merlin
Northern Harrier
Northern Shrike
Northern Wheatear
Savannah Sparrow
White-crowned Sparrow
Yellow Warbler

Falcon
Finch
Goose
Gull
Hawk
Pipit
Raven
Shrike
Sparrow
Thrush
Warbler


General comments on the day:
A mix of sun and clouds played over the wide sky today, with temperatures climbing into the low 60s. Strong winds buffeted the ATCO units perpendicular to its course in the afternoon, shaking them like an invisible giant. In between gusts I heard and saw a variety of birds out the window, mostly the same suite of species we've been seeing lately. While approaching a Northern Shrike for a photo yesterday afternoon it took off after posing and a second bird appeared out of nowhere. They screeched at each other and took off together - I was unable to determine if it was a parent with a juvenile or two juveniles bumbling around together. Most of the time shrikes exist as solitary birds, so it was a rare treat. -Seth

Daily images:
All images courtesy Toolik Field Station unless otherwise noted in comments.
If you use data from this page, please cite the data according to the following format: Environmental Data Center Team. Year of data retrieval. Toolik naturalist' s journal. Toolik Field Station, Institute of Arctic Biology, University of Alaska Fairbanks, Fairbanks, AK 99775. http://toolik.alaska.edu/edc/journal/index.php
Webcam Images
for 24 Aug 2016
(click image to view full size)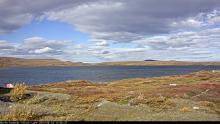 Looking toward Toolik Lake

Looking toward Brooks Range
See the Snow Cover Monitoring section for more daily images from Toolik.