A Day from the Naturalist Journal
We currently collect daily observations of weather, wildlife and phenological characteristics around the Toolik Lake region. Recordings of storm events and duration, cloud cover, air temperature, wind speed, fog and percent snowcover are taken each day. Wildlife activity in and around camp is recorded, including birds, fish and insects sightings. We note the timing of ice out and ice up on Toolik Lake, as well as green-up measurements in the spring and senescence measurements in the fall.
Summary from the Toolik Lake Naturalist Journal
| | | | |
| --- | --- | --- | --- |
| Time of Day: | 7:37 pm | | |
| Air Temperature: | 48°F | Snow Cover: | 0% |
| Wind Speed: | 8 mph | Ice on Lake: | 0% |
| Wind Dir: | NW | Ice on River: | 0% |
| Cloud Cover: | 100% | Aurora Seen: | N |

What we saw:
Mammals (2 seen)
Tracks (0 seen)
Arctic Ground Squirrel
Vole

Bird Species (15 seen)
Bird Families (11 seen)
American Pipit
American Robin
American Tree Sparrow
Common Raven
Common Redpoll
Fox Sparrow
Glaucous Gull
Golden Eagle
Lapland Longspur
Northern Pintail
Savannah Sparrow
Tundra Swan
White-crowned Sparrow
Willow Ptarmigan
Yellow-billed Loon

Duck
Eagle
Finch
Gull
Loon
Pipit
Ptarmigan
Raven
Sparrow
Swan
Thrush


General comments on the day:
We had all kinds of weather today - sun turned to sprinkles turned to sun turned to showers turned to fog and mist.There's a chill in the air and snow forecasted at some nearby elevations. We're ensconced in velvety fog now and I can barely see the lake from the EDC window. Flocks of redpolls breezed over the tundra this morning, a golden eagle was seen to the south, a mother pintail and one surviving chick here on the lake. There are still some willow leaves yet to turn yellow but for the most part we're at about the peak of fall colors. Check out this vermilion carpet of Arctostaphylos from the LTER heath site. -Seth

Daily images:
All images courtesy Toolik Field Station unless otherwise noted in comments.
If you use data from this page, please cite the data according to the following format: Environmental Data Center Team. Year of data retrieval. Toolik naturalist' s journal. Toolik Field Station, Institute of Arctic Biology, University of Alaska Fairbanks, Fairbanks, AK 99775. http://toolik.alaska.edu/edc/journal/index.php
Webcam Images
for 28 Aug 2014
(click image to view full size)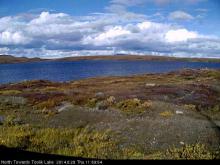 Looking toward Toolik Lake

Looking toward Brooks Range
See the Snow Cover Monitoring section for more daily images from Toolik.