A Day from the Naturalist Journal
We currently collect daily observations of weather, wildlife and phenological characteristics around the Toolik Lake region. Recordings of storm events and duration, cloud cover, air temperature, wind speed, fog and percent snowcover are taken each day. Wildlife activity in and around camp is recorded, including birds, fish and insects sightings. We note the timing of ice out and ice up on Toolik Lake, as well as green-up measurements in the spring and senescence measurements in the fall.
Summary from the Toolik Lake Naturalist Journal
| | | | |
| --- | --- | --- | --- |
| Time of Day: | 8:24 pm | | |
| Air Temperature: | 21°F | Snow Cover: | 100% |
| Wind Speed: | 12 mph | Ice on Lake: | 100% |
| Wind Dir: | WNW | Ice on River: | 100% |
| Cloud Cover: | 100% | Aurora Seen: | Y |

What we saw:
Mammals (0 seen)
Tracks (0 seen)
Bird Species (0 seen)
Bird Families (0 seen)

General comments on the day:
South wind most of the day switching to a WNW in the evening and with the wind some snow.
If you use data from this page, please cite the data according to the following format: Environmental Data Center Team. Year of data retrieval. Toolik naturalist' s journal. Toolik Field Station, Institute of Arctic Biology, University of Alaska Fairbanks, Fairbanks, AK 99775. http://toolik.alaska.edu/edc/journal/index.php
Webcam Images
for 3 Mar 2015
(click image to view full size)

Looking toward Toolik Lake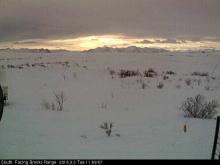 Looking toward Brooks Range
See the Snow Cover Monitoring section for more daily images from Toolik.